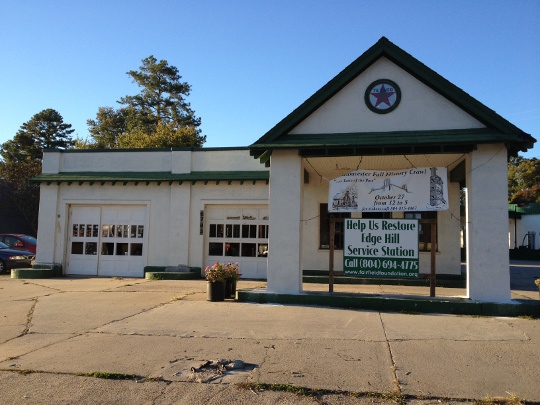 You read it right the first time!  This grant will complete the restoration of the Edge Hill Service Station – creating a center for preservation in our community.  The Fairfield Foundation, working hand-in-hand with Gloucester County, received a Transportation Enhancement grant from the Federal Highway Administration.  The funds, administered by the Virginia Department of Transportation (VDOT), will help us restore the station as a public outreach center for preservation.  But we need your help.  Here are the details:
We need to raise $96,000 to match the $384,000 grant, meaning every dollar you give results in nearly $5 towards the restoration of the Edge Hill Service Station.  There is no better way to support the preservation of this remarkable building and ensure the success of Gloucester's newest preservation center.
We cannot complete the restoration of this signature building without this match.
Here is how you can help!
Make a generous cash donation!  Think of it this way: Your $100 donation triggers nearly $400 from VDOT = $500 combined!  Every contribution is important.  Your contribution will ensure that the restoration project will be quickly and successfully completed, allowing the Edge Hill Service Station to become your local preservation and outreach center.
Are you interested in sponsoring a particular element of the restoration, such as the new doorway, interior trim, or lab equipment?  We are happy to discuss particular giving opportunities and recognition possibilities relating to substantial individual gifts.
So, you can't make a big donation, but still want to help?
We know not everybody can donate significant funds, but there are many ways to help.  If you would like to donate supplies, such as paintbrushes, lumber, tools, and other items, that would be a great help too.  Just contact us for a list of what we still need.   You can also donate your skills to the restoration.  Are you a carpenter, a plumber, or restorer of antique light fixtures?  Do you wield a skillful paint brush, enjoy refinishing old doors, or want to help us repair our plaster walls?  We are accomplishing many tasks with volunteer help, so if you have always wanted to pitch in on a restoration project, now is your chance.
If you want to contribute your skills, equipment, supplies, labor, or make a donation, please contact us at Fairfield@inna.net or give us a call at 804-815-4467.