The 1930 Edge Hill Service Station has been restored into our headquarters, known as the Center for Archaeology, Preservation and Education (C.A.P.E.). You may know the building, situated at the corner of U.S. Rt. 17 (Main Street) and Rt. 14 in Gloucester, but its function is new, serving as an educational and preservation center for the entire Middle Peninsula region.  The Fairfield Foundation has been doing archaeological research and educational outreach since 2000, but the C.A.P.E allows us to broaden our reach and our programs, helping to bring the wonder and richness of local history to the forefront. The C.A.P.E. now houses archaeological collections, exhibits on local excavations, and a small research library for archaeology, history and architecture. We are open every Thursday from 10am to 4pm. Please come by to see the building, talk with our volunteers and staff, and learn more about artifacts that you may have found. The outdoor area is always open and includes interpretive signs, restored gas pumps, a large granite map of Gloucester in 1912, seating areas, and of course the neighboring T.C. Walker mural.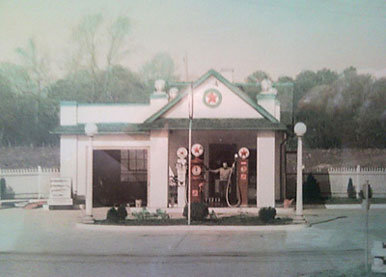 Edge Hill Service Station as it appeared in the 1930s.
Making a space for history and preservation
We purchased the Edge Hill Service Station in 2010 from Andy James, Jr., grandson of J.C. Brown, the original owner and operator. The building needed a lot of work, but we thought it could become a wonderful gateway to Main Street and a great example of the adaptive reuse of a historic building for new purposes. The multi-year process of restoring this 1930 service station took a lot of effort, but the community rallied to the cause, contributing financially as well as through dedicated volunteers who completed many thankless tasks around the building. Opened in 2018, the C.A.P.E. now serves as a vibrant center for archaeology and preservation projects in the region, and hosts archaeology lab nights, artifact wash days, student activities, lectures, and more.
Transforming a 1930 service station
The Edge Hill Service Station is an historic structure that is part of the Gloucester Downtown Historic District stretching along much of Main Street. The original station was built in 1930 and opened in 1931, with a second service bay added by the late 1930s. Though the building had numerous structural issues prior to restoration, it retains much of the original lighting, window, and door hardware, including metal-framed windows in the garage bays and reception area, daisy glass in the bathroom windows, and interior light fixtures, as well as some of the limited trim work.  The open layout of the garage bays proved perfect for converting into education and office space. We even retained one of the original car lifts and had a glass table-top custom-made to fit over it. To increase efficiency, we added significant insulation to the roof, and fitted all the restored windows with magnetic interior storms, which seal the gaps and reduce noise levels. We also have a 4.5kw solar panel array on the flat roof to generate clean electricity. Several missing features were brought back including the globe lights, and the cedar shake roof, while the original lamp posts were restored to light the exterior, and several historic gas pumps were restored and serve as outdoor exhibits.
The Center for Archaeology, Preservation and Education is a regional center for preservation.
How to get involved in preservation
While work on the C.A.P.E. is complete, we have other preservation projects in the area. If you would like to help out, either monetarily, or by volunteering your time or supplies, please get in touch with us. The C.A.P.E. and the Fairfield Foundation's other programs and properties can always use financial support. Your donation is not only tax deductible, but it will also leverage other donations through matching grants and rehabilitation tax credits available through the state government.  Please click on the Donate button below- your help will go a long way!
Volunteers contribute their time to us in many ways.  You can volunteer your skills to help with building restoration, donate supplies, or involve your business in our projects.  You can also volunteer on our fundraising and events committees, help write grants or assist with restoration workshops.  If you have a special skill, such as painting or carpentry, we have a place for you. Every contribution is important and helps the Fairfield Foundation accomplish its goal to get people of all ages involved in discovering and preserving history.