Written by Sean Restivo, Fairfield Foundation Fellow Summer 2023
Shorelines and islands are unique spaces of interaction, both among humans and between humans and nature. Once lost, the information that is unique to these spaces cannot be recovered at further inland sites. All around the world, these spaces are rapidly being lost to climate change-induced sea level rise and coastal erosion. My fellowship with the Fairfield Foundation focuses on studying three sets of low-lying islands on the York River, all with important cultural sites and all at risk of being lost to the tides: the Catlett Islands, the Goodwin Islands, and an island on the Poropotank River.
My project uses archaeological and historical evidence as well as oral histories to create detailed histories for each of the three sets of islands through their various periods of occupation. I discuss the threat climate change poses to coastal sites and how the history of marginalized communities tends to be at the highest risk of destruction. And I explore the viability of photogrammetry (a technique that allows one to take many two-dimensional photographs, stitch them together with computer software, and create a detailed, three-dimensional, digital model) as a method of preserving detailed information about coastal sites. The fellowship work also ties into my senior honors research project at Macalester College where I am a student.
The first and most crucial phase of my fellowship was a month-and-a-half-long trip to Virginia, during which I visited the subject islands, went through local archives, conducted photogrammetry and 3D modeling work, and helped out with several other Fairfield projects.
Researching islands is challenging in that they are difficult to access, so we worked closely with the Chesapeake Bay National Estuarine Research Reserve (Va) at the Virginia Institute for Marine Science (VIMS), whose staff were incredibly generous with both their time and their boats. With their help, we were able to visit each of the subject islands, document artifacts and structures at each site, perform drone-based photogrammetry, and conduct limited excavations.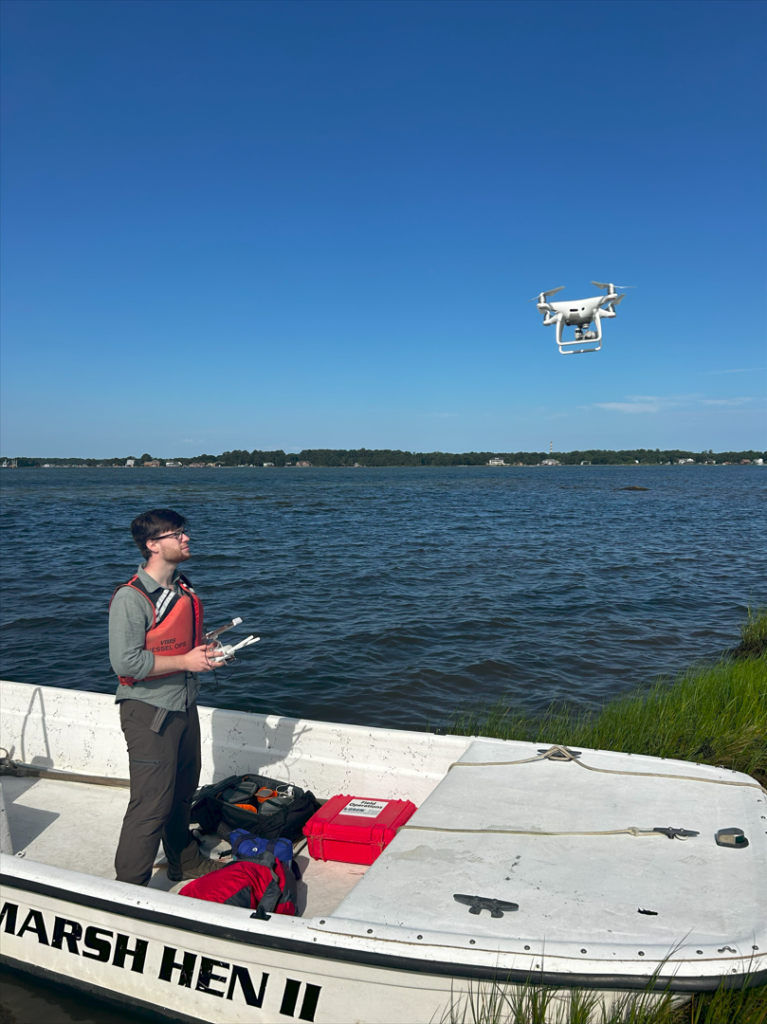 I also had the opportunity to help with several other Fairfield projects, either by conducting photogrammetry or assisting with excavations. In particular, I had the pleasure of working with the First United Baptist Church in Gloucester to conduct photogrammetry of their historic cemetery and attempt to map out unmarked graves using the model's topography. Throughout these experiences, I not only had the pleasure of working with so many incredibly kind and talented individuals, but I also gained experience that was transferable to my own research and work going forward.
With the Virginia-based data collection phase of my research complete, I am turning to my archival research, conducting remote oral histories, processing data, and transforming that information into an honors thesis paper. While the scope and depth of my research were limited by the relatively short time I spent in Virginia, I hope that my work will inform and inspire future research on these informative and threatened cultural sites.