It's that time of year again! How would you like to spend a fall day exploring four of Gloucester's premier historic sites and sampling delicious food from some of Gloucester's finest eateries? Join the Fairfield Foundation, the Rosewell Foundation and the Joseph Bryan Branch of Preservation Virginia on October 27th from 11:30 a.m. to 5 p.m. for the third annual Gloucester Fall History Crawl.
Tickets on Sale Now! Email us at fairfield@inna.net to reserve yours today. 
Updated information:
View a complete schedule of the event here!
View a map of event locations here!
 Historic Abingdon Church
This year, participants in the Crawl will kick off the journey at historic Abingdon Church, where tours of the cemetery, organ music, and singing are all available to enjoy, along with great bites to eat.  A short drive on Hickory Fork Road (Rt. 614) leads participants to our second stop, Fairfield Plantation, where there will be tours, hands-on archaeology, more great food, and a colonial firearms demonstration.  Further down Hickory Fork Road, Preservation Virginia's Walter Reed Birthplace serves as the third leg of this historic and culinary progressive, offering historic presentations by Voices of Freedom, interpreting the African-American experience of the mid-19th century.
 Colonial Firearms Demonstration at Rosewell
Finally, attendees will enjoy the delightful fall weather at Rosewell, touring the property and learning about Virginia's military history and Rosewell's 18th-century residents beneath the majestic ruins of America's most prominent manor house. Throughout the Crawl, participants can enjoy wonderful dessert treats from Jessica's Sweet Shop, meatballs and crab cakes with specialty dips from Rosemary and Wine, delicious delights from Short Lane Ice Cream, and a selection of soups, ham roles, zucchini bread, coffee and Portuguese custard cupcakes from Olivia's, The Wild Rabbit, Whitley's Peanuts, and Mobjack Bay Roasters.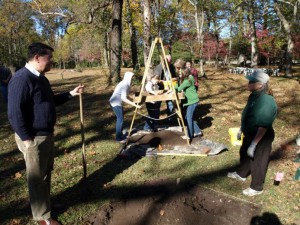 Hands-on Archaeology at the Fall History Crawl
"The beautiful colors of a fall Gloucester day are a wonderful backdrop for the combination of great food, fascinating history, and exciting hands-on archaeology. And October is Virginia Archaeology Month – what a perfect way to spend a Saturday afternoon celebrating and enjoying all of these things," says John Gillis, Chairman of the Board of the Joseph Bryan Branch of Preservation Virginia.  There will be hands-on excavations supervised by archaeologists from the Fairfield Foundation where kids and adults can really experience archaeology.  Fairfield Foundation Co-Director Thane Harpole notes, "these sites preserve precious stories of Gloucester County's long and complex history, and they have much to share with the public.  Come explore and experience these places for yourself, and help us uncover new stories of the past through archaeology."
Tickets for the "Gloucester Fall History Crawl" are $20 each and include a tour booklet highlighting the history of each site.  Children under 12 are free with a paying adult and will receive their own kid's "past-port", with fun games, coloring, and room for stamps from each site.  Tickets are available for purchase at the event sites the day of the event, or reserve your tickets by email to fairfield@inna.net or call 804-694-4775.  Tickets will also be available for sale at the Rosewell Visitor's Center.  Proceeds from the event will benefit these foundations and support vital preservation efforts in the community.
This is a great opportunity to celebrate the significance of Gloucester's many historic resources, so please join us on the 27th, and bring your friends!
Thank you to our wonderful Event Sponsors: