Preserving the past is about more than just saving buildings….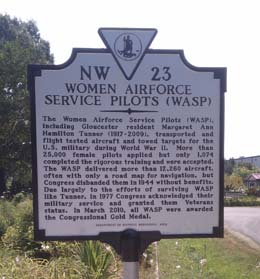 The scenic wayside near the intersection of Ware Neck road and Route 14 is now noteworthy for more than its beautiful setting, picnic tables, and Brent and Becky's Bulbs.  On June 8th the Fairfield Foundation helped unveil Virginia's newest historic highway marker.  Entitled "Women Airforce Service Pilots (WASP)", the marker draws your attention to the remarkable contribution a select group of women made to our military effort during World War II.  Specifically, it highlights the contribution of WASP Margaret Ann Hamilton Tunner (1917-2009), who resided at Hockley on Ware Neck.  Together with her fellow pilots, she transported and flight tested aircraft and towed targets for the U.S. military.  A vital part of the war effort, the WASPs delivered more than 12,260 aircraft around the world, often with only road maps at their disposal.  Despite their amazing contribution, Congress disbanded them in 1944 without recognition or benefits.  Not until 1977, and due largely to the efforts of surviving WASPs, did our government recognize their efforts, granting them veteran status.  In 2010, the WASPs received one of our country's highest honors: the Congressional Gold Medal.
Virginia's historic highway marker program is the oldest of its kind in the nation.  The marker was written by Lisa Harper and The Fairfield Foundation and sponsored by the Virginia Department of Transporation and the Diversity Marker Program of the Virginia Department of Historic Resources.  It is an honor for us to recognize such a worthy group and especially one of our own in Gloucester who has done so much for us and should never be forgotten.