On May 4th, the Fairfield Foundation announced our new education and preservation center at the former Edge Hill Service Station in Gloucester and discussed with supporters our plans for the future.  We extend our deepest gratitude to Nam Vu and his family for their gracious hosting of this fundraising event.  Sponsors included the Gold Sponsor- Chesapeake Bank, and two Bronze Sponsors- Dominion Virginia Power and Thomas L. Hunter and Associates.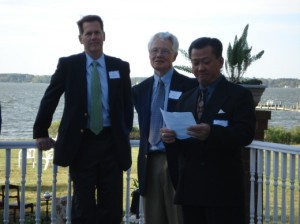 Host Nam Vu spoke eloquently on the importance of preservation, history, heritage, and community. "Preservation makes sure our culture and heritage will not be lost. It helps us maintain a sense of community by connecting us to our past," said Nam Vu. "When the Edge Hill project is completed…it will be a learning laboratory and a place to educate all Americans about where we have come from." The full text of Nam Vu's speech is available here.
Guests had the opportunity to discuss with staff, volunteers and board members the future plans of the Fairfield Foundation and how we will make use of our new headquarters to extend our preservation goals to all of the Middle Peninsula and beyond.  This project is designed to enrich all of us, and could not move forward without broad community support.  What better way to discuss these issues than over a plate full of delicious local food!  We thank all of the restaurants who donated food for the fundraiser: The Courthouse Restaurant, Wild Rabbit, Olivia's In the Village, Jessica's On Main, Rosemary and Wine, Wild Ginger, Nuttall's Store, and the White Dog Grill.  The owners of Daffodil Vintage on Main supplied furniture, china, silverware and linens for the event, creating beautiful seating areas and outdoor rooms for the enjoyment of all the guests.  We encourage you to support all of these local businesses who have generously supported our efforts to restore an iconic building and create a community history resource center.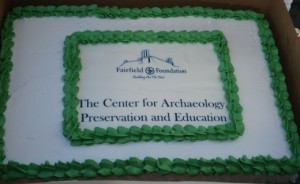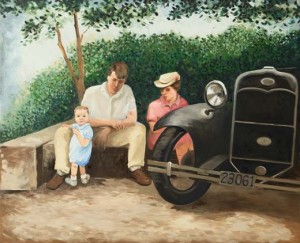 In addition, a large original painting that hung at the Edge Hill Service Station over the past year was donated for auction by artist Carolyn Dudley.  A beautiful fresh flower arrangement was also donated for auction by Emily Barbee.
Many thanks to our sponsors: