Savannah.  A city full of great history, great architecture, and great art.  What a fascinating place to visit and to spend a few days appreciating breakfasts of shrimp and grits, walking the eighteenth-century city streets, and enjoying the Spanish Moss hanging from the trees.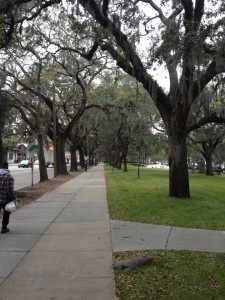 Spanish moss  and live oaks lining the streets of Savannah
Over the first weekend in March, that's what Co-Directors Dave Brown and Thane Harpole planned to do, but were pleasantly sidetracked by the opportunity to present their research at the Society of Early Americanists Conference.  They didn't spend all their time inside the conference hotel, but the trip to this remarkable city was made even more valuable with the chance to share the history and archaeology of Fairfield Plantation and Gloucester County with an international society of multidisciplinary scholars.  Sessions with specialists in early American literature, architecture, history, and material culture over three consecutive days introduced our directors to the wide range of interests that contribute to a broader understanding of the colonial past.
Dave and Thane organized a session of papers entitled 
The Intersecting Plantation Landscape. 
 With contributors from
Poplar Forest
,
Mt. Vernon
, and
St. Mary's City
, the session brought a new focus to a complex subject, namely the broader plantation landscape and its overlapping boundaries as it evolved from the seventeenth through the nineteenth centuries.  Where does the plantation end and the rest of the world begin?  You might be surprised by the answer.  Whether discussing George Washington's milling and distilling operations that extended to the towns of Colchester and Alexandria, or Fairfield's own Lewis Burwell II and his involvement with locating, designing, and furnishing nearby Abingdon Church as well as the developing capitol at Williamsburg, the talks touched on an interconnected colonial world that extended far beyond the manor house and tobacco fields.
The team of scholars plans a follow-up session in an equally remarkable city, Quebec, in January 2014 for the Society of Historical Archaeology's annual conference.  As always, the dead of winter is the perfect time for a conference in Canada (no one handles the cold better than Canadians), and the Foundation staff look forward to fantastic architecture, fabulous food, and frigid temperatures. And of course, we eagerly await the chance to learn from our colleagues and build on the presentations in Savannah, addressing the broad plantation landscape from the perspective of the enslaved Africans and others who did not own the land, but worked within its bounds and wrote its history in the ground.