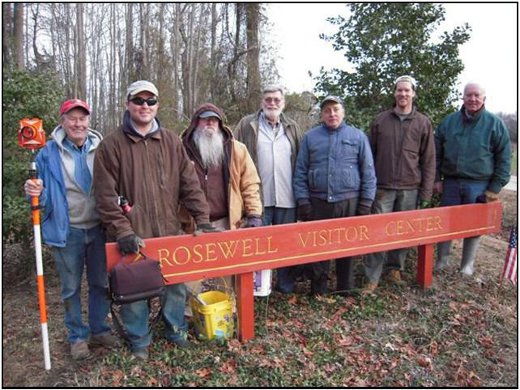 We've all heard the expression "You can't take a step in Virginia without walking on an historic site!" We live in an amazingly historic area with wonderful resources, from the first permanent English settlement at Jamestown, to the restored and reconstructed town of Williamsburg, the grand plantations along Route 5, and the battlegrounds at Yorktown and Gloucester Point.  But that history extends far beyond these well-known sites and counts just as much for our communities in Gloucester, Mathews, and the entire Middle Peninsula. Many of us know of historic sites in our own backyards where we've found broken pottery, an arrowhead, or a minie ball.  One of the goals of the Fairfield Foundation is to collaborate with the Middle Peninsula Chapter of the Archeological Society of Virginia (MPCASV) is to identify these sites and determine what they can tell us of our region's history (Learn more about the ASV at www.asv-archeology.org).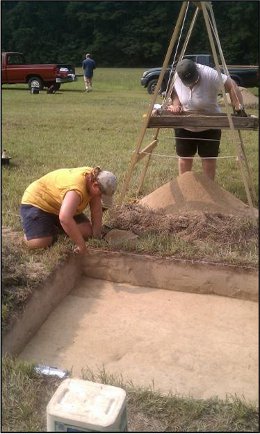 The MPCASV consists of avocational and professional archaeologists dedicated to protecting, learning from, and sharing the knowledge gained from archaeological sites of all periods. The primary focus of the group is working with property owners and the public to identify, register, study, and encourage stewardship of archaeological sites on the Middle Peninsula. The chapter's work often includes site visits, talking with property owners, properly identifying artifact collections, and sharing information about the type, date of manufacture, and cultural context of these objects. The chapter is also busy searching for sites of significant historical importance, such as the many undocumented shipyards of Mathews County. Members work closely with property owners, historic groups such as the Mathews Maritime Foundation and the Mathews Historical Society, as well as historians and other researchers who are similarly interested in the history of the Middle Peninsula. Archaeology is inherently collaborative.
Do you have a site you'd like to share with the MPCASV?  Whether it's in your own backyard, at your family's old homestead, or someplace you heard about through a friend, we're interested in learning anything we can about the history and archaeology of the Middle Peninsula.  Email us at the Fairfield Foundation (Fairfield@inna.net) and we will be happy to schedule a visit or talk with you about your artifacts.  Interested in getting involved?  Fairfield and the MPCASV have a variety of activities throughout the year, on weekends and weekdays, that you can participate in – no prior experience necessary.  We look forward to meeting you and learning more about our shared heritage.