We are please to announce that a generous grant of $15,000 from Dominion Resources will support the design and installation of solar panels and infrastructure at our Edge Hill Service Station on Main Street in Gloucester.
"The Fairfield Foundation is thrilled that Dominion is playing such an important role in promoting energy efficiency and sustainable design in our area," said Fairfield Foundation President Carl Fischer.
"We are pleased to help preserve this historic site and help make it energy-efficient," said Virginia M. Board, president of The Dominion Foundation and managing director of community affairs for Dominion Resources. "Edge Hill offers a rare glimpse back in time to our nation's automotive roots."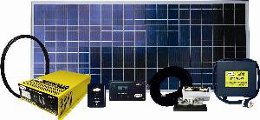 The Dominion Foundation is the philanthropic arm of Dominion Resources, of which Dominion Virginia Power is a subsidiary. Foundation grants are funded by shareholder dollars and are not borne by customers. The grant helps fund the restoration's second phase, estimated to cost about $100,000, including many 'green' and sustainable design efforts, such as materials reuse, geothermal heating and cooling and wastewater recycling to make the renovation qualify for Leadership in Energy and Environmental Design (LEED) certification.
Dominion is one of the nation's largest producers and transporters of energy, with a portfolio of approximately 28,000 megawatts of generation. Dominion operates the nation's largest natural gas storage system and serves retail energy customers in 15 states. For more information about Dominion, visit the company's website at www.dom.com.
We look forward to finalizing the design specifications for our rooftop solar system and installing it later this year.  This generous grant will help bring light and life back to the Edge Hill Service Station, shining a spotlight on the revitalization of Gloucester's Main Street.