This project arose out of a seemingly random email. Dr. Jessica Taylor (Virginia Tech) caught a reference to the Watkins Motel and Florist at Gloucester Courthouse when she was conducting background research for our collaborative oral history project on Main Street (supported by the Gloucester Main Street Preservation Trust). She passed along a link to the advertisement and it literally opened up volumes of information on the Green Book at the New York Public Library. We asked ourselves "is this the tip of the iceberg, or is it just a wonderful anecdote?" As usual, it was both.
We did not grow up knowing the Green Book. You might have heard about it on National Public Radio, or through the children's book "Ruth and the Green Book" (by Calvin A. Ramsey, 2010). You might have come across it on the cool website from the University of South Carolina, or the exciting expanded map project undertaken at the New York Public Library (by Brian Foo of NYPL Labs). Or you may have even had personal experience using it, which we would love to hear about.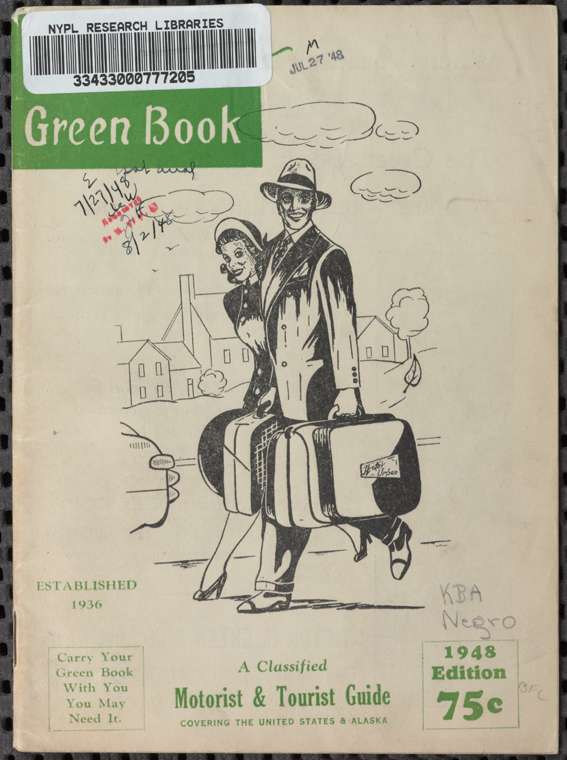 The Negro Motorist Green Book: 1948 (Photo courtesy of NYPL Digital Collections)
The Negro Motorist Green Book was an annual guide published between 1936 and 1966 to assist African American families traveling across the United States. It advertised hotels, restaurants and other businesses throughout the country that welcomed (or served) African American travelers during the period of Jim Crow and segregation. The story behind the Green Book is fascinating and, like many others who stumbled upon it, we felt compelled to do something with it.
It took us some time, though, to find the energy to push forward. Lucky for us, Hilary Wehrle, a graduate student relocating to Virginia, was fascinated with documenting cultural landscapes and intrigued by the Green Book. She connected with us and co-authored a grant proposal to Virginia Humanities. With their support, we embarked this year on an initial phase of research into the Green Book's Virginia properties. The goal of our project is to bring attention to these places and the people associated with them – both for their role as safe havens for African American travelers, and as examples of successful entrepreneurs and business leaders. Preserving these places would be ideal, but first we needed to find them.
Our grant focuses on no less than twelve properties in rural eastern Virginia. Fairfield Foundation Preservation Coordinator Victoria Gum combed through all of the issues digitized by the NYPL and compiled a spreadsheet of all Virginia properties advertised therein (click on the "spreadsheet" link to download the list). Inspired by the several projects listed above, we wanted to create a highly detailed and accurate map that included current images of these sites, regardless of their condition. We planned to engage local historical societies, members of the African American community, and others who cared about these places and would be willing to share their stories with others. Even at the earliest stages of this project, we are encouraged by the outpouring of support and encouragement for moving this forward.
Our initial attempts at finding these places were not all successful. It became clear very early why other projects focused on properties with listed addresses in urban settings. Most rural properties were listed as "near" a post office or country store, and you were forced to imagine what it was like to travel during that time when "near" was always relative. Additional disadvantages included changes in road locations, modification and adaptive re-use of buildings, and the understanding that many of these properties did not survive. And yet we were pleasantly surprised to find the sites of more than half so far, and hope that through this blog post, and a few posts on social media, we might find a few more.
Victoria Gum and Dave Brown document potential Green Book properties, Oct 16 2018. Photo courtesy of Brian Palmer.
Victoria Gum and Dave Brown explore the potential Green Book property on the site of Morton's Restaurant (demolished 2015) in West Point, Oct 16 2018. Photo courtesy of Brian Palmer.
Victoria Gum and Dave Brown explore the potential Green Book property at the site of Jordan's Enterprises in West Point., Oct 16 2018. Photo courtesy of Brian Palmer.
Over the next several weeks we plan to highlight our short list of twelve properties over social media (Facebook, Instagram, and Twitter) so please stay tuned and share this with anyone you think might be interested. We've learned the most through random conversations at just the right moment, so the more you pass this along, the greater chance we have at tracking down more of them. And we're lucky to find others who share many of the same goals. Visit virginiagreenbook.com and you'll find the excellent work of Susan Hellman, who is focusing on Virginia and collaborates with architectural historians from across the country who are pulling together websites for every state. As we look at wrapping up this initial phase of work, we will complete architectural (and archaeological) inventory forms with the state historic preservation office (the Virginia Department of Historic Resources) to ensure that our data is useful to others in the future, but also to make sure that planners, cultural resource managers, and preservationists have this information in a centrally located and easy to find spot. We also anticipate conducting property-specific research on each location to identify when the buildings were built (and potentially modified or destroyed) and by whom. We would also like to work with the current landowners who may be fascinated to learn of the special history of their property (if they have passed out of the original family). We think our project will advance the excellent efforts of those who started before us, and hopefully lead to the recognition and preservation of these important landmarks. Please contact us if you have any information on the properties you see photographed and/or discussed here, or any that you see on the spreadsheet. We are anxious to learn more, and to work with others who are equally fascinated with this period and the Green Book.
Please note that the images you see here were taken by Brian Palmer, whose mother was the navigator on a trip with her father from New York to Mexico in 1952 at the age of 14. They stayed at a "dismal" Green Book-advertised hotel in Alabama. You can find more about Brian, see his excellent photographs, and learn about his and Erin Hollaway's preservation efforts with John Shuck, Melissa Pocock and the crew at East End Cemetery in Richmond here.


This program has been funded in part by a grant from Virginia Humanities