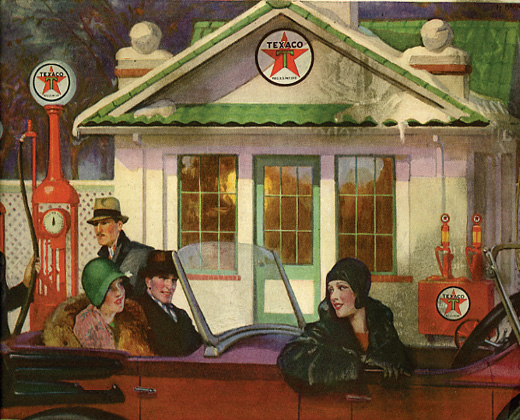 The Fairfield Foundation is teaming up once again with Adventures in Preservation to recruit a team of volunteers to do hands-on restoration work at the 1930 Texaco Station in Gloucester, Virginia the week of August 26, 2012. Work this year will focus on plastering of interior walls. This marks 2012's major preservation task on the station's interior, bringing the project one step closer to completion. Volunteers of all ages are welcome; no experience is necessary, just a willingness to learn new skills and literally apply them!
We purchased the building in 2010 in order to save it from demolition resulting from years of slow deterioration. Our successful fundraising campaign has raised the money necessary to cover the mortgage, leaving the need for an innovative volunteer approach to complete actual work. Volunteers to date have completed significant portions of the clean-up and preservation work to help the budget go further. This community effort has built great support for the project, both within the community and from volunteers outside of Gloucester, with the intent of creating a preservation resource center to encourage involvement of community members in their local history.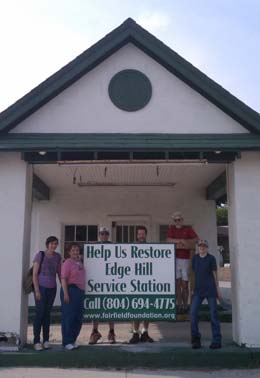 Last year, volunteers contributed 210 hours in one week of work, as they learned glazing skills and used their new skills to restore the large garage bay windows.  If you would like to help, contact Dave Brown or Thane Harpole at 804-815-4467. For complete projects details and registration information, see Plastering at the Pumps at http://adventuresinpreservation.rezgo.com/details/32043/Plastering-at-the-Pumps.
Adventures in Preservation is a non-profit organization connecting people and preservation through enriching experiential programs. One- and two-week hands-on volunteer vacations give participants the opportunity to travel, experience their destination, and learn hands-on skills while saving a valuable community resource. AiP envisions a world where people use, understand, and appreciate historic buildings that are vital to economic and environmental sustainability. Learn more about how AiP volunteers combine their power with the strength of local communities to make a difference at www.adventuresinpreservation.org.