There are three prominent structures located on the north side of Main Street in Gloucester that are often called the Booker buildings. Each has its own history, and they have endured changes through the years, but all were built and maintained by the Booker family. Sadly, the buildings are currently slated for destruction, as the Gloucester County Fire Department purchased the properties in 2019 and plans to tear them down to make way for a new fire station. The Calvin Hotel, Tri-County Furniture Store, and Booker House have made an indelible mark on Main Street and are significant architectural contributions to the Downtown Gloucester Historic District, which was added to the Virginia Landmarks Register and National Register of Historic Places in 2010. These current threats to demolish these structures have made it even more important to highlight their stories.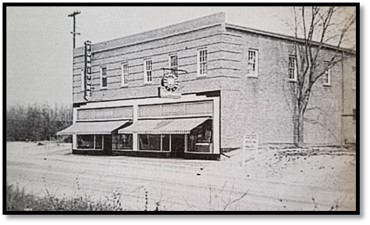 The first building built by Calvin Roane Booker was the Tri-County Furniture store in 1937. Located at 6677 Main Street, its wide two-story brick façade with large storefront windows facing Main Street made a big impression in the late 1930s. While most businesses on Main Street have come and gone over the last century, the county's need for a local furniture retailer remained consistent. The quality of the products offered by the Bookers, along with their location and family-oriented business model, ensured that there was always enough demand to survive changes in style or economic downturns. From its opening until early this year it was the longest running business on Main Street.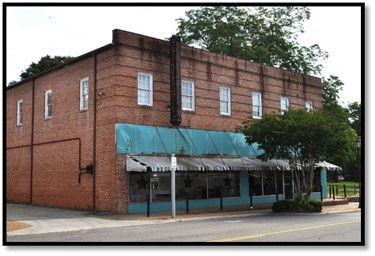 The Booker House, a prominent two-story, three-bay Colonial Revival dwelling, sits back from the street on a large lot at 6683 Main Street. Built in 1943 by Calvin Roane Booker, the house has a gabled roof, exterior brick end chimneys, an enclosed side porch, and front portico with square columns. This house stands in contrast to the commercial buildings next door, but anchors a short stretch of residences that ends with T.C. Walker's 2-story frame house.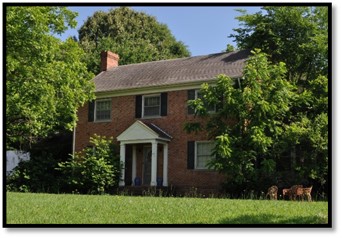 Located at 6671 Main Street, the Calvin Hotel was built in 1948 by Calvin Roane Booker. The deep two-story building with large front windows, a flat roof, and a distinctive curved silver porch in Streamline Moderne style sits close to the sidewalk near the middle of the historic district.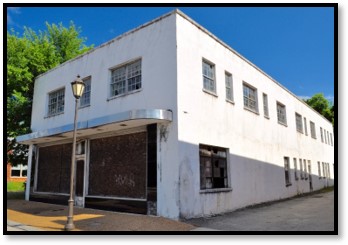 The hotel included a restaurant on the first floor, which was frequented by guests and locals. Many residents of Gloucester Courthouse who lived in the area during the 1950s recall going to the hotel restaurant for sandwiches and sodas. Matchbooks from the hotel advertised superior service, reasonable prices, good food, and air conditioning for guests and permanent residents.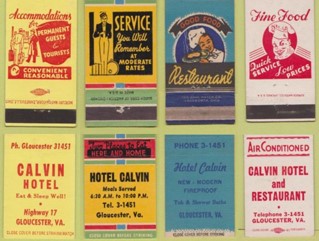 Hotels during this period had long-term tenants, renting rooms as apartments, rather than tourists or business travelers as is more common today. That contrast in function is crucial for understanding why Main Street could sustain at least four hotels during the mid-20th century, including one catering to African Americans and located behind the florist, to the north of the colonial courthouse circle. The Calvin Hotel closed in 1969.
All three of these buildings were part of a 926-acre parcel of land owned by George Hughes during the latter half of the 19th century. In 1897, George Seawell purchased 27.75 acres of the Hughes estate. This acreage had no structures at that time. It was shortly thereafter sold to T.C. Walker, who sold the property at auction to settle a debt between George Seawell and William Berry. Mr. T.C. Walker gave 10 acres of the land to his wife, Annie Walker, and the remaining 17.75 acres were sold at auction on November 2, 1900 to Seawell siblings Hairston, Charlotte, and Willie, who offered a bid of $145 for the land. Tax records indicate that buildings were added to the property as early as 1901. As with many properties on Main Street, small dwellings or commercial enterprises were established but appeared to have only minimal value and their role in the historic district's growth is uncertain.
Annie Walker was the wife of T.C. Walker, the first African-American lawyer in Gloucester County and a prominent figure in our community. Their house, which still stands and is owned by Hampton University, is a stone's throw away from the Booker properties. Upon her death in 1912, Mrs. Walker left all properties in her name to her husband. In 1943 T.C. Walker sold a 2.2-acre parcel along Main Street to Calvin Roane Booker, where he built the Booker house.
The Seawell property was subdivided more than once and went through several different owners before Calvin Roane Booker bought portions of it in 1936 and 1944, so that he could build his furniture store and hotel, respectively. Mr. Booker passed away in 1958, leaving the hotel and all other properties to his wife, Carrie Eastwood Booker. She and her three children continued to operate the furniture store until recently. Mrs. Booker lived in the house until she passed away in 1999, and along with her three children they continued to operate the Tri-County Furniture store.
The Booker family's presence on Main Street ranks among the longest and best known of any in the county. Their roles as community leaders, business owners, and residents ensure that these buildings remain landmarks and essential elements to the larger Downtown Gloucester historic district. While many business owners' residences existed behind or upstairs from their storefronts, the Bookers built their house perched on the slight rise above Main Street, a prominent reminder of how important they felt this community was, and their commitment to it.
Please share your own stories about the Booker buildings and let us know what you think the future of these buildings should be.