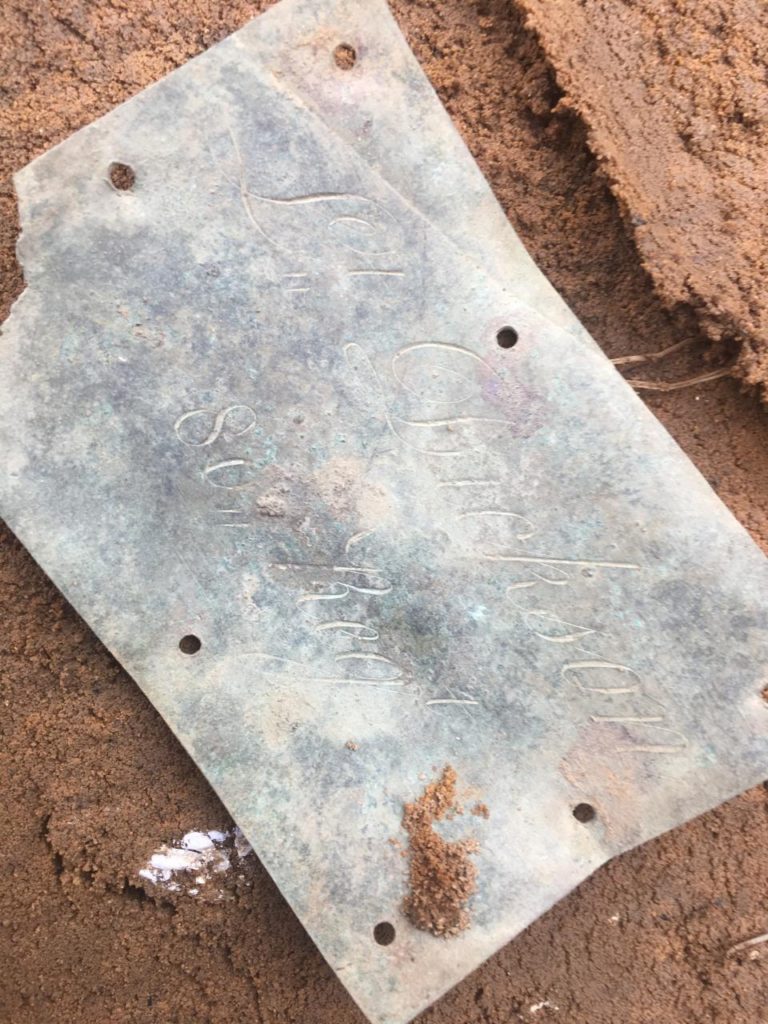 In March of 2016, our field crew embarked on an intensive archaeological investigation on the campus of the Virginia Institute of Marine Science (VIMS) at Gloucester Point, ahead of proposed construction of a large new facility. Throughout the spring, summer, and fall, we worked diligently to explore all of the areas to be impacted by the proposed construction, excavating dozens of test units and hundreds of features such as post holes, boundary ditches, trash pits, a few surprise animal burials, and oh yeah, some more post holes. We found ourselves particularly engaged and excited by a number of Civil War-period features and artifacts, especially the densely-filled trash pits that continually produced intriguing artifacts. Butchered animal bones, a bone and iron pocket knife, ginger beer bottles, iron ration cans, Minie balls, Union infantry uniform buttons, a Union token, log-cabin style bitters bottle fragments – these are just a few of the many artifacts that grabbed our attention.
We tried to be content with these amazing finds, but quickly found ourselves greedily wanting more as the project continued beyond our initial estimates.
Fast forward to winter – specifically, January 2017 – when we found ourselves excavating features in a series of trenches (future utility corridors), and suddenly realized that one of these trenches traveled directly through a potential cellar feature uncovered and mapped in 1994 by the William and Mary Center for Archaeological Research (WMCAR), but not excavated. We set out to excavate the roughly 4 ft x 11 ft section of the cellar impacted by the trench with moderate expectations, but it quickly became apparent that this particular cellar fill was remarkable. The first few days of excavation were spent persevering through an incredibly dense oyster shell layer, also rich with animal bone, and punctuated with occasional personal items such as a child's thimble, matching copper-alloy knee buckles, and dozens of straight pins. Abruptly, the shell layer ended and we encountered a distinct pocket of personal effects, including the best items we could have asked for – tightly dateable artifacts!
In quick succession, the new layer produced a handful of artifacts dating to the Revolutionary War period – the first such artifacts from this phase of the project to specifically date to that time. The finds included a 1773 Virginia halfpenny, a sliver of a Spanish colonial 8 reales likely dating to the 1770s or 1780s, a series of French infantry uniform buttons, some of which identify regiments which have been documented as present at Yorktown during the siege in 1781 (and subsequent post-war clean up), and a brass trunk nameplate engraved with "Lt. Dickson 80th Regt." The layer also included equally interesting (but unfortunately less dateable) personal effects such as a handful of carved bone buttons, a bone lice comb fragment, a partial bone utensil handle, a brass drawer pull, a brass lock (still locked!), and several beautiful examples of both English and French gunflint.
This cellar feature is interesting for more than just the artifacts it contains. The excavation of the cellar revealed no evidence of a brick foundation, and relatively few architectural artifacts overall, suggesting it was a wooden structure. A burned hearth area was discovered in a small extension at the north edge of the rectangular cellar, leading to further questions about the original purpose of the building and longevity of its use. What we do know based on the artifacts in the cellar fill is that it was filled in sometime after the surrender at Yorktown and Gloucester Point, potentially 1781 or 1782. With both British and French artifacts coming from the feature, we seem to be getting a glimpse at the aftermath of war at Gloucester Point, when French and American troops remained in the area following the cessation of hostilities and likely participated in cleaning up the town landscape as well as continuing to tend to the wounded.
Now let's backtrack for a little more contextual information on some of these amazing finds!
The very crisply cut 1/8″ portion of a silver 8 reales (in remarkable condition), has little legible text on it, given its size, but we can distinguish a mint mark from Mexico, an "8R' (denoting its worth), and on the reverse the letters "RAT", part of the phrase "Dei Gratia." Given the context in which the coin was found, it is mostly likely a Carlos III "dollar" dating to the 1770s (Carlos reigned as King of Spain from 1759-1788). Spanish coinage was circulated widely in the colonies throughout this period.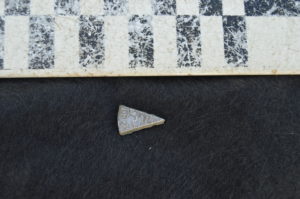 The discovery of the French infantry buttons was really a fun process – we were thrilled to turn up the first one, a 47th regiment button – and the ability to use smartphones and Google in the field quickly helped us confirm that the button was indeed Revolutionary War-era and French (despite some overlapping numbers between British and French regiments present at Gloucester Point.) Quickly we discovered at least one more 47th regiment button, two buttons from the 64th regiment (one likely an officer's button based on its larger size), a 7th regiment button, and an 85th regiment button.
Thanks to some detailed information from historian Robert Selig, we know that Rochambeau's 64th artillery regiment was in Gloucester during the Siege of Yorktown in 1781, and that Saintogne's 85th infantry regiment (also a Rochambeau regiment), although not present at Gloucester during the siege, remained in the area as late as July of 1782 and potentially assisted with post-war clean up efforts. The 7th regiment and 47th regiment buttons present more of a research dilemma: neither of these regiments were stationed near Gloucester (the 7th [Champagne] was stationed in the West Indies, and the 47th [Bretagne] stationed outside Gibraltar), but some of the men in these regiments may have served on ship detachments that brought them to Virginia.
Now, let's talk about this brass trunk nameplate. It's pretty much every archaeologist's dream to find an artifact with a name on it, and we certainly weren't expecting to find it that day. It lay face down within the feature, an unassuming, tarnished brass rectangle – until we turned it over and realized there were words engraved on it. Letters and numbers (oh my!) that spelled a name and a regiment: Lt Dickson 80th Regt.
Again, thanks to the information available at our fingertips via smartphones, it didn't take long to discover that the 80th Regiment of Foot, an infantry regiment also known as the Royal Edinburgh Volunteers, were organized in 1778 and were indeed present at Yorktown. Input from other scholars of the era (including fabulous fans on Facebook who did some preliminary primary source research while we were still in the field) helped quickly flesh out some details: the 80th regiment, among them newly commissioned James Dickson, came ashore at Gloucester Town on August 1, 1781, and were ordered to bolster the defenses in a line of redoubts across Gloucester Point.
But wait, there's more! This particular artifact's story doesn't end there. It didn't take much longer for Fairfield Foundation board member, volunteer, and professional genealogist Lori Jackson Black to research Lt. James Dickson on Ancestry.com, quickly tracking down descendants of the lieutenant and alerting them to the recent artifact find. Within 48 hours of being contacted by Lori, the Chadwicks of Greensboro, North Carolina, had made plans to hop in the car and drive to Gloucester Point to see their ancestor's nameplate!
Craig, the 4x great grandson of Lt. James Dickson, and his wife Janine were thrilled to be able to see and touch the artifact bearing Dickson's name, and they marveled at the shear luck that had led to archaeologists finding the nameplate within the small portion of cellar that required excavation. Says Janine, "We can't tell you how exciting it was to see and touch that brass nameplate of Craig's ancestor! And to be able to meet the archaeologists Michele and Anna who were working the dig and discovered it. We feel that we won the lottery!!" Craig and Janine, along with another Dickson descendant Shirley Reeve, have shared with Lori and us an incredible amount of detail outlining the genealogy of Lt. James Dickson and his descendants, so if genealogy is your cup of tea, read more here!
Those of us involved in the discovery agree that not only discovering a small piece of someone's family history, but also being able to share that piece with the very family it is connected to, has been both a pleasure and an honor – and of course, it represents the kind of connections that that make the thousands of hours of excavation on one project worthwhile. Discovering a tangible connection to a personal element of the storied past at Gloucester Point -what more can we ask for?