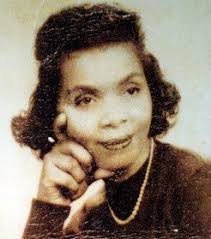 In 1944, a woman named Irene Morgan was riding a bus from Hayes to her home in Baltimore. Ms. Morgan was at a hard point in her life. She was a mother to several children and had just suffered a painful and dangerous pregnancy ending in miscarriage. After an operation associated with this, she found herself physically unable to give her children the care they needed. She had traveled down from her home in Baltimore to drop her children off with her mother in Hayes until she had recovered enough to get back on her feet. She was now on her way back home.
When Ms. Morgan boarded the bus, she found a seat in the back in accordance with Virginia's policies of segregation at the time. She was seated next to another young woman, this one holding a newborn baby. This is purely speculative, but I imagine this must have made her situation even more painful – as she had just lost a baby and on top of that was returning home without her other children. The bus traveled north, dropping off and picking up passengers as it went. Soon it was nearly full.
At a bus stop near Saluda, a white passenger climbed aboard. By this point all of the seats were occupied. Although they were in the back of the bus, the driver ordered Ms. Morgan and her seatmate to give up their seats and stand for the rest of the journey. Ms. Morgan refused, telling the driver this was unreasonable. She informed him that she had just had an operation and was physically unable to stand for so long. She also told the woman next to her not to obey, because there was no way she could stand on a bouncing bus holding a newborn baby for hours on end. The other woman, probably scared of the possible consequences, ignored Morgan and vacated her seat. This wasn't good enough; according to state law at the time, black and white passengers could not occupy the same row of seats.
Ms. Morgan held firm in refusing to give up her seat. The bus stop happened to be across the street from a police station, and the driver sent for law enforcement backup. Ms. Morgan (then Irene Morgan Kirkaldy), who had since moved back to Gloucester, recounted the incident in an interview with the Washington Post in 2000:
I didn't do anything wrong. I'd paid for my seat. I was sitting where I was supposed to… [The sheriff's deputy] grabbed me. That's when I kicked him in a very bad place. He hobbled off, and another one came on. He was trying to put his hands on me to get me off. I was going to bite him, but he was dirty, so I clawed him instead. I ripped his shirt. We were both pulling at each other. He said he'd use his nightstick. I said, 'We'll whip each other.' (quoted in Hulsof-Schmidt 2012)
Ms. Morgan was arrested and charged with disorderly conduct and failure to move from her seat. Her mother enlisted the legal aid of the NAACP and paid the fine for disorderly conduct. When Ms. Morgan's case went to court, the judge didn't want to charge her with failure to move because there was potential for the case to go to a higher court. However, because the disorderly conduct fine was already paid, there was no choice but to charge her with failure to move. She was found guilty.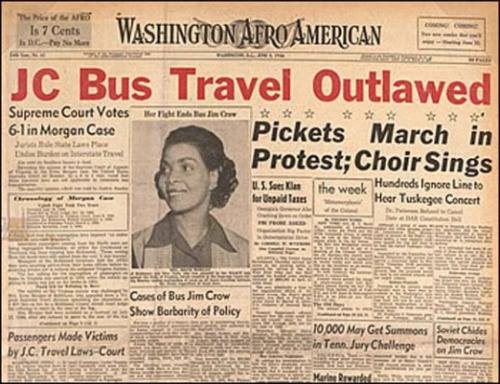 Ms. Morgan and the NAACP began a long series of appeals led by lawyer Thurgood Marshall. Two years later, in 1946, the United States Supreme Court ruled that she was in the right and had not been legally obligated to give up her seat. Morgan v. Virginia established that segregated seating on interstate transportation was unconstitutional and that people of any color could sit wherever they wanted. The Court's ruling, however, was almost immediately ignored as bus companies established policies which were in flagrant disregard for the ruling. More arrests followed across the state and nation as bus riders protested disregard for the Morgan decision. These protests led directly to more famous Civil Rights cases and the influence of figures such as the Freedom Riders and Rosa Parks, whose famous case occurred nine years after the Morgan decision.
In Gloucester, we often get caught up in our distant history – stories of Native Americans, early colonists, plantation houses and enslaved workers, and the Revolutionary and Civil Wars. But history is ongoing. Cases such as Irene Morgan's are much more recent but just as influential in shaping the course of modern life. We need to share this story and be proud, adding it to the list of significant moments in Gloucester's past.